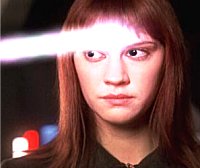 PSIONIC Subjects possess heightened mental capabilities.

COMMON TYPES:

Telepathic - Mind readers
Telekinetic - Able to move objects with the mind
Tele-Empathic - Able to feel and to alter emotions and perceptions
Tele-Cybernetic - Able to mentally connect with machines and control them.
Precognitive - Able to see future events.
Illusionist - Projects unreal visuals and attitudes.
This variety of New Mutants is considered most difficult to monitor and control.